Space Dynamics Lab Passes Critical Milestone as Science Instrument Readies for Launch to Space Station
Utah State TODAY - September 18, 2023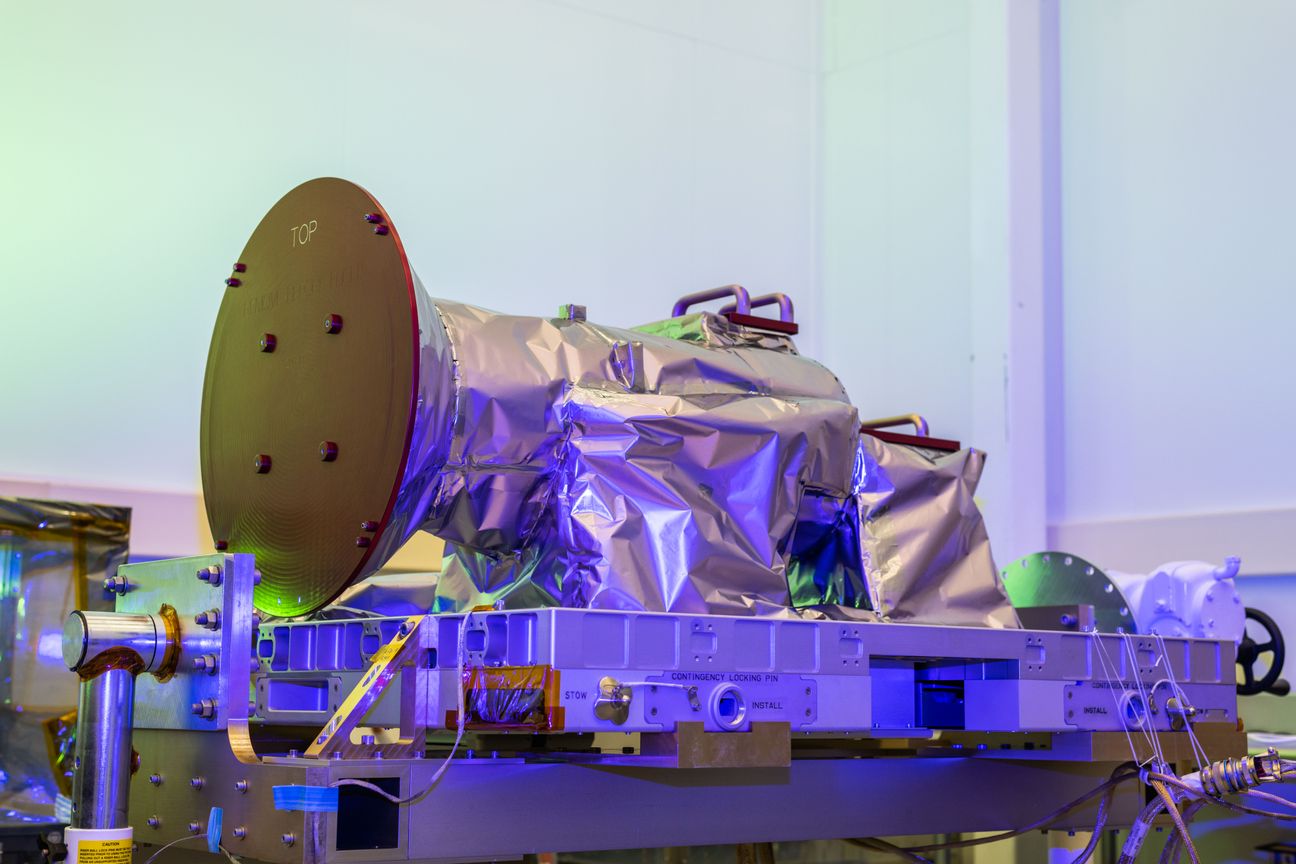 NASA's Atmospheric Waves Experiment, or AWE, payload is shown in this May 26, 2023, photo at SDL facilities on USU's Innovation Campus with its red remove-before-flight covers installed. (Photo Credit: SDL/Allison Bills)
Utah State University's Space Dynamics Laboratory announced today that NASA's Atmospheric Waves Experiment, or AWE, has received its Flight Safety Certificate, clearing the way for a planned Nov. 1 launch to the International Space Station.
The primary objective of Flight Safety Certification is to verify that the AWE payload and its associated systems comply with strict safety standards. The certification process involved a comprehensive risk assessment to identify potential hazards the payload could pose to the ISS, its crew, and other space assets. By addressing safety concerns early in the process, the certification ensures that only payloads with acceptable risk levels can launch to the ISS.
"With the ISS orbiting at an average altitude of approximately 400 kilometers above Earth's surface, the environment is challenging and unforgiving. The certification process considered the extreme conditions of space, such as microgravity, radiation exposure, and the risk of micrometeoroid impacts," said Russ Kirkham, AWE's safety and mission assurance manager at SDL. "No safety or compatibility issues were identified for AWE, and the certification provides an additional layer of protection for the astronauts living and working in this unique extraterrestrial habitat."
The certification was issued by the relevant space agencies responsible for payload transportation and operations, and it encompasses a series of evaluations and compliance assessments. Through stringent safety compliance, compatibility checks, orbital trajectory analysis, and contingency planning, the Flight Safety Certificate ensures that AWE can be safely integrated into the ISS environment.
The certification process involved rigorous checks to ensure AWE's compatibility with ISS infrastructure and systems, including evaluations of physical dimensions, electrical interfaces, communication protocols, and power requirements. In addition, the certification process required robust contingency planning for potential anomalies or emergencies that could require astronaut intervention during AWE's mission. Ensuring the payload's successful operation is important; however, verifying that it will not endanger ISS operations or crew safety is paramount.
AWE's mission centers on studying how atmospheric gravity waves (AGWs), which are generated by weather events on Earth, propagate through the ionosphere-thermosphere-mesosphere system at altitudes ranging from 50 to 500 kilometers. Once integrated onto the ISS, AWE will gaze directly into Earth's atmosphere to unravel the mysteries of gravity waves in this region, specifically how they affect space weather.
Understanding space weather, especially in the ionosphere with its electrically charged particles, is crucial as it can disrupt vital space-based communication systems we depend on. By decoding the physics and characteristics of AGWs, scientists will gain valuable insights into how Earth's weather shapes the properties of the upper atmosphere.
The AWE mission is led by Principal Investigator Dr. Michael Taylor from USU's College of Science. SDL is responsible for AWE's total project management, systems engineering, safety and mission assurance, and on-orbit operations.
AWE is a Mission of Opportunity under NASA's Heliophysics Explorers Program, which conducts innovative, streamlined scientific investigations by developing instrumentation to answer focused science questions that augment and complement the agency's larger missions. AWE joins a fleet of heliophysics missions positioned at key places around the solar system, which together seek to understand the way the constant outflow of energy and particles from our Sun affects interplanetary space — information that not only teaches us more about our astrophysical neighborhood, but helps protect astronauts and technology in space.
For more information about the AWE mission, visit www.awemission.org.
USU's Department of Physics is among six academic departments of the College of Science. As part of a land- and space-grant university, the college's mission is to create, share, and apply new knowledge to inspire scientific solutions to global challenges. USU physics students develop valuable research and critical thinking skills with professors engaged in world-class research programs. For more information, visit www.physics.usu.edu.
Headquartered on Utah State University's Innovation Campus in North Logan, UT, the Space Dynamics Laboratory is a nonprofit organization and a Department of Defense University Affiliated Research Center owned by USU. More than 1,000 dedicated SDL engineers, scientists, business professionals, and student employees solve technical challenges faced by the military, science community, and industry and support NASA's vision to explore the secrets of the universe for the benefit of all. SDL has field offices in Albuquerque, NM; Chantilly, VA; Dayton, OH; Huntsville, AL; Ogden, UT; and Stafford, VA. For more information, visit www.sdl.usu.edu.
The material is based upon work supported by the National Aeronautics and Space Administration under Contract Number 80GSFC18C0007. Any opinions, findings, and conclusions or recommendations expressed in this material are those of the author(s) and do not necessarily reflect the views of NASA.
Contact
SDL Public Relations
(435) 713-3054
Back to News