NASA Selects USU-led Mission to Study Space Weather from Space Station
Utah State TODAY - March 5, 2019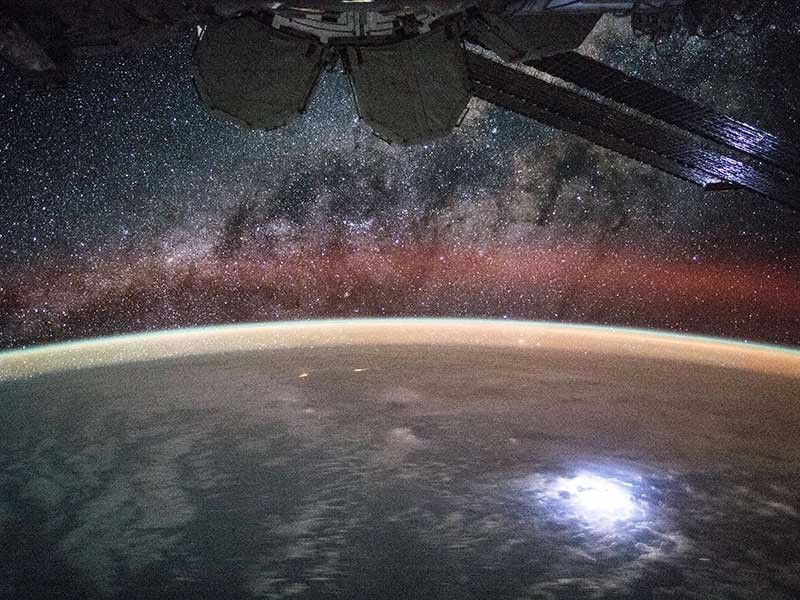 Image taken from the International Space Station showing orange swaths of airglow above Earth's atmosphere. NASA has selected USU to lead an experiment to observe this airglow from the station. Courtesy NASA.
NASA has selected Utah State University's Atmospheric Waves Experiment (AWE) mission to study space weather from the International Space Station. Planned for launch in August 2022, the AWE experiment features an imager, known as the Advanced Mesospheric Temperature Mapper, that will capture colorful bands of light in Earth's atmosphere, called "airglow," to determine the combination of forces driving space weather in the upper atmosphere.
"We are honored Utah State University has been selected to lead this important NASA mission," says USU President Noelle Cockett. "AWE continues USU's long tradition of working with NASA to realize its mission of achieving a deep, scientific understanding of Earth, our solar system and the universe beyond."
USU Physics professor Mike Taylor, who has studied upper atmospheric gravity waves for more than three decades, leads the project, which is managed by USU's Space Dynamics Laboratory (SDL). Additional investigators participating in the project include USU Physics professor and College of Science dean Maura Hagan, adjunct professor Jeff Forbes and physicists Dominique Pautet and Yucheng Zhao.
"For decades, SDL has worked with NASA to provide advanced technologies, testing and operational expertise in order to reveal the unknown for the benefit of humankind," said Jed Hancock, executive director of operations for Space Dynamics Laboratory. "SDL will design, build and test the AWE instrument that will allow scientists to characterize gravity waves in the mesosphere, helping us to advance our knowledge on the connections between weather on Earth and weather in space. SDL will also provide NASA with overall mission management and operations for this important program."
"This is the culmination of many years of work and determination, but the excitement is just beginning," says Taylor. "Our mapping camera will capture images of waves from space, enabling near-global measurements."
Such direct observations of these waves, he says, will paint a more accurate picture of how they affect Earth's atmosphere, including vital satellite communications and navigation systems.
"Global maps of gravity waves enabled by the AWE mission will revolutionize insight into connections between meteorological and space weather, with the promise for improved space weather prediction capabilities in the future," Hagan says. "Further, this partnership between USU and SDL provides our students the opportunity to participate in a cutting-edge NASA project."
With its headquarters in North Logan, Utah, SDL has offices in Albuquerque, NM; Bedford, MA; Dayton, OH; Huntsville, AL; Houston; Los Angeles and Washington, DC. As one of 15 University Affiliated Research Centers, SDL serves as a trusted agent of the U.S. Government and a strategic Department of Defense research center. Last year, research projects awarded to SDL valued more than $100 million. SDL is growing and is currently hiring more than 50 engineers, technicians and business professionals to add to the current workforce of about 800 people. Visit www.sdl.usu.edu for more information.
The USU College of Science seeks to create a scientifically literate community that celebrates innovation and diversity, and embraces evidence-based decision making. The college is dedicated to creating, sharing and applying new knowledge within both its academic and broader communities, and training students in an environment that nurtures growth and inspires solutions to societal and environmental challenges. For more information, visit www.usu.edu/science.
AWE is funded by NASA's Mission of Opportunity under the Heliophysics Explorers Program, which conducts focused scientific research and development instrumentation to fill the scientific gaps between the agency's larger missions.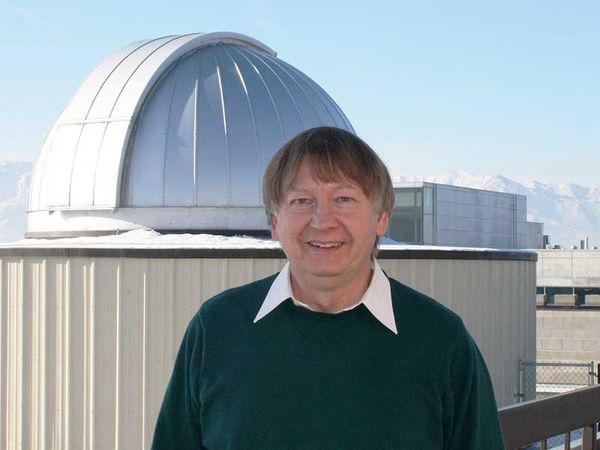 USU physicist Mike Taylor is lead investigator for the AWE mission, selected for funding by NASA, to study space weather from the ISS. USU's Space Dynamics Laboratory will design and build the experiment's imaging instrument.
Contact
SDL Public Relations
(435) 713-3054
Back to News